📚 Three Books, 😎 Being Generalist and 🎥Mmhmm
Master of none
Hello! Friends,
I am these days on a reading spree, the trick of reading ten pages per day is now enhanced to reading almost 40 pages per day - and also I am switching between two books, in two different languages, English and Urdu. Because of that, I was able to read two books in a month that was easy for me.
Reason for doing that kind of multi-lingual reading is to keep my mind entertained, and don't get bored with one topic for almost a month.
Books
Forever Employable by Jeff Gothelf is pretty interesting. It teaches you how to "stay relevant" and stay employable. It is a very important book, especially in the time of COVID-19. But he is not giving you anything new, in my opinion. But he did provide you a step-by-step guide, with more depth and "Do this now" section are super helpful.
I told you about The Four by Scott Galloway is one of my newsletters, it will help you to understand how the big corps are driving our life and what you can do to make it work their behavior in your favor, at least from the career perspective.
Being Generalist
I recently posted on a LinkedIn my thought about why being specialist sucks, and I did notice that it took some legs, and people start sharing that post and also received tons of comments on it. As of today, this is how my post stats are: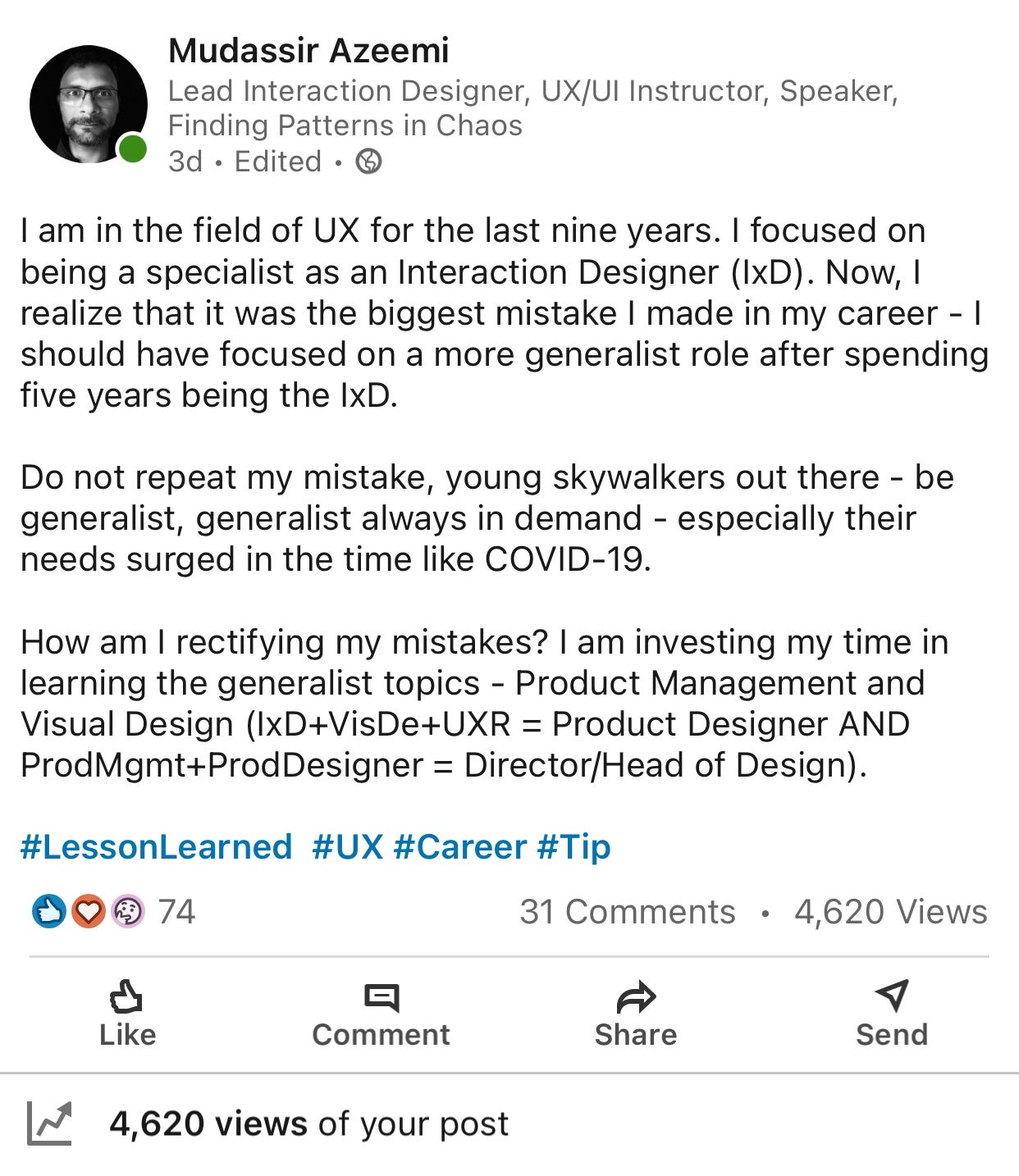 It leads me to find the age-old saying, "Jack of all, master of none." To my surprise, we have been taught wrong! Okay, here is the thing I graduated in the year of 1999. And imagine, I came to know about this when I was in high-school, Which means even before 1999 I was told about this phrase. And the whole connotation injected in my mind that "being a Jack of everything is not a good idea." This is how we were (almost) all got trained. Do you know what the complete phrase is? Be ready for a shocker:
"Jack of all trades, master of none, oftentimes better than a master of one"
Cool right? We were taught so wrong! To survive any kind of difficulty or challenge, be mindful of the multi-dimensional approach. And how to achieve that kind of talent? Read, read as many books as you can. And follow my super simple ABCs of it:
Always. Be. Curious.
Mmhmm
There is a new app in town, yes, literally named Mmhmm (read exactly like Mmhmm). It is a fun little app, which tries to spice up your Zoom conference meeting. However, I think it is made for those who are videographers and love to make YouTube videos. Don't see it that super helpful at the moment for presentation, especially when I experimented with this app during my class, yes, I teach at UC Berkeley (Ext.) as a UX/UI Instructor. Check it out, and let me know what do you think of it?
Thank you for your time and for reading this newsletter. If you think you are getting the benefit out of this newsletter, please do share it with your friends. Much appreciated!
Cheers,

Mudassir
PS: I changed the newsletter name, it will be now "Finding Patterns in Chaos", my age-old tag line!